Welcome
Welcome to the official website for the United States Bankruptcy Court for the Eastern District of Oklahoma located in Muskogee, OK. MORE »
HOURS: Due to COVID-19 Please Call the Court Before Coming to the Courthouse and click on this link for requirements regarding protective masks.
Please mail all documents, petitions and payments to the Clerk's Office at the mailing address listed below in "Court Locations".
If you have an Emergency Filing, please call the Clerk's Office at the number listed below.
PHONE: (918)549-7200 Click here for DIRECTIONS »
Also see: (Court Holidays and Court Closings)
OKEB ECF RSS FEED
OKEB Announcements RSS FEED
GOV DELIVERY - EMAIL DELIVERY NOTIFICATION **Click to subscribe**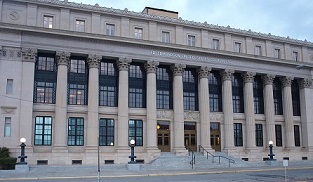 Court Locations
MAILING ADDRESS:
U.S. Bankruptcy Court
Eastern District of Oklahoma
P. O. Box 1888
Muskogee, OK 74402
STREET ADDRESS:
U.S. Bankruptcy Court
Eastern District of Oklahoma
101 N. 5th Street, Room 403
Muskogee, OK 74401
News & Announcements
On December 1, 2021, changes to four FRBP rules will take effect. More »
NOTICE FROM THE UNTIED STATES BANKRUPTCY COURT FOR THE EASTERN DISTRICT OF OKLAHOMA REGARDING: More »
From August 30, 2021, to September 17, 2021, under the Bankruptcy Administration Improvement Act More »